A visit from The Tooth Fairy is VERY exciting indeed! Our inquisitive children have lots of questions about The Tooth Fairy, but these can be tricky to answer as she is extremely magical and secretive.
Luckily we have uncovered some fun fairy facts to share with you:
In The Tooth Fairy's castle, there's a tooth library where the names of all the children in the world are stored. Their collected teeth are kept in a huge storeroom in the palace
What happens to all those teeth? The Tooth Fairy's elf friends make pretty jewellery out of them, and fairies from near and far travel to the palace to buy them.
The Tooth Fairy is one of the smallest and prettiest fairies in existence. She visits your home through her Magic Door when all is quiet and still. She wears shimmering white gowns and silk slippers. Her wings shimmer with a golden glow and her hair shines as if laced with glitter.
What happens when a child begins to stir while The Tooth Fairy is near? She sends them back to sleep with a sprinkle of special fairy dust that she carries in her gold silk purse.
Sprite spies travel the world by day, writing the names of children with very loose teeth in a log book. At night, The Tooth Fairy checks the logs before she makes her rounds.
The Tooth Fairy works very closely with Dream Fairies, who banish nightmares and make sure children have sweet dreams.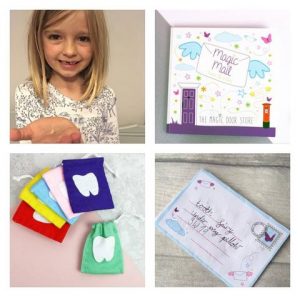 If you are expecting a visit from The Tooth Fairy soon, be sure to stock up on:
Magic Dust – a gentle dusting will do!
Magic Mail – it is important that your child leaves a picture or little letter for The Tooth Fairy.
Tooth Fairy Pouch – keeping the special tooth safe under their pillow for the fairy to find.
These free printable receipts are great too.
Thank you for sharing the magic and for keeping The Tooth Fairy busy! xxx
P.S. if The Tooth Fairy forgets to visit your home on the odd occasion… it is ok, she has lots of children to visit in one night and will visit the next night. Try tidying your bedroom and sprinkling some extra Magic Dust to entice her back!